New Drug Approvals
Eli Lilly and Co. announced that results from the Phase 3 REGARD trial of ramucirumab (IMC-1121B) as a single agent in patients with advanced gastric cancer who have had disease progression after initial chemotherapy were published today in The Lancet. REGARD is the first Phase 3 study with either a single-agent biologic or an anti-angiogenic therapy to show improved overall survival and progression-free survival in advanced gastric cancer patients.
READ ALL AT
http://www.dddmag.com/news/2013/10/ramucirumab-trial-shows-improved-os-gastric-cancer?et_cid=3516952&et_rid=523035093&type=cta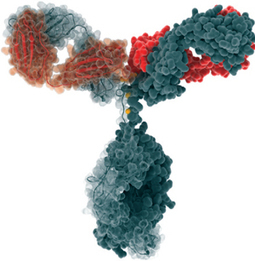 Ramucirumab (IMC-1121B)[1] is a fully human monoclonal antibody (IgG1) being developed for the treatment of solid tumors. It is directed against the vascular endothelial growth factor receptor 2 (VEGFR2). By binding to VEGFR2 it works as a receptor antagonist blocking the binding of vascular endothelial growth factor (VEGF) to VEGFR2. VEGFR2 is known to mediate the majority of the downstream effects of VEGF inangiogenesis.
Ramucirumab is being tested in several phase…
View original post 159 more words